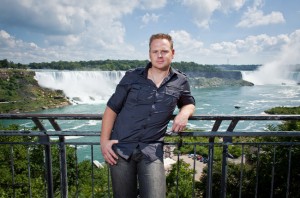 On June 15th this year, Nik Wallenda will walk across the Falls on a tightrope.  Over 4,000 tickets for viewing have been distributed and only those with a voucher and subsequent wristband will be allowed into the viewing area on the American side of the Falls.  The city of Niagara Falls will be holding a press conference on June 13th to discuss how they will handle the additional traffic and parking stress.
Which of course gets me thinking, if rain showers on your wedding day send brides into a fit of depression and/or rage, how will having your wedding/picture spot occupied by over 4,000 people be handled by any bridezillas that planned out using Niagara Falls State Park as a venue a year or more ago?
If they did this on a Saturday, I'm pretty sure there would be little lacy and flowery riots all over Niagara Falls...