So many of you know that I once had a contract that kept me on the go, every week.  Not just on the go, but flying from city to city, Monday through Friday most weeks.  I have been to all but 8 states in the United States, parts of Canada (not that THIS is a big deal growing up in the Buff) and Australia as a function of that job.  Due to this I experienced... a lot in the world of travel.
Go ahead and tell me about your traveling woes when you went on vacation, but I can assure you, I've been there and then some.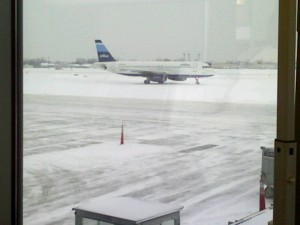 My good friend Sarah recently suggested that I put more of a personal and human influence into my blog here and talk about some of those experiences.  The things I did, the things I learned, the fun times, the less than fun times.  Like flying from Buffalo at 6AM to Boston for meetings, then flying from Boston that afternoon to Oakland to do work, then catching a red-eye to JFK that night to drive out to Long Island for a full day of work, then finishing that day by flying home to Buffalo.  Talk about over-tired.
But even that wasn't so bad.
As a first entry into this exciting new content, I decided to create a list of the best and worst airports I traveled through in my years on this job.  Mind you, this isn't an all inclusive review of airports around the world, simply the ones I have experienced.  But there have been a lot of them...  my biggest criteria of course is the airport's ability to get flights in and out on time.  The better that performance, the better over-all opinion I would have of the airport.  But the service offered within the airport on those occasional long layovers, delays and other waits are important too.
First, the Best:
1. Orlando, FL
Obviously a huge tourist destination with nearby theme parks and nature preserves, it only makes sense that Orlando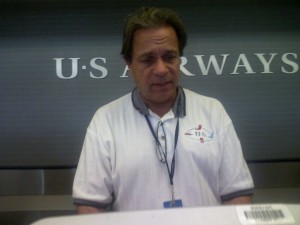 (MCO) is a world class airport.  I have always found with a decent selection of restaurants and other amenities, plenty of airport and airline staff available to assist, smooth security experiences and a tram system that zips you quickly to your required terminal - if you can avoid annoying families, this airport makes the traveling experience as stress free as it can be.
2. Charlotte, NC
As far as hub airports go, Charlotte (CLT) rarely posed a problem flying into or getting out of.  I have joked about flying to this airport for an afternoon just to get nachos and margaritas at the Jose Cuervo Tequileria .  But a decent post-security restaurant selection isn't the only benefit to flying through Charlotte.  It is a simple layout. Four long concourses spread out from the central terminal, and navigating the airport is easy - even though it tends to be very busy.  The airport and airline staff there were some of the friendliest, most of the time, and quite often I had to request favors from ticketing and gate agents to make last-minute travel changes, which they did 100% of the time without hassle.  You can even get FREE WiFi in the express concourse, which is unheard of at most larger airports.
3.  Louisville, KY
Louisville, (SFO) services northern Kentucky and southern Indiana, and despite Louisville being a fairly large urban area with significant surrounding population, the airport is on the smaller side.  Smaller airports tend to be the easiest to navigate and offer the quickest, easiest security experiences.  They do have quite a collection of mini baseball bats from Louisville Slugger, confiscated from passengers that couldn't heed the multiple warnings that they cannot have these items in carry on.  Right by the US Airways gates, there is a fantastic bar/restaurant where you can get drinks and some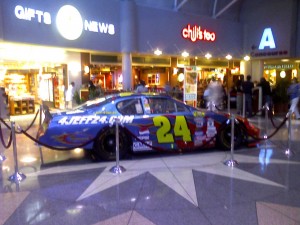 really good food by airport standards.  They have on-site car rental for all the major providers and it is easy to land, grab a car and hit the road literally in a matter of minutes in most cases.
4.  Minneapolis / St. Paul
The rarity here is that being such a large airport, you would expect this one to be a huge headache, but Minneapolis/St. Paul (MSP) was never a headache for me.  Packed with all the shopping and restaurant choices you would expect from a major hub and a major gateway between the east and west coast, there are plenty of pre and post-security amenities.  Security?  Never found it to be a problem.  The wait can be long at peak times, just like with any hub, but with multiple checkpoints the lines tend to run smoothly.  Usually the only issue was getting my GPS to guide me to the correct terminal, which determining when you need the Lindbergh or Humphrey terminal could be your only major hiccup.  And despite the bad weather the area normally experiences, they know how to handle it.  Even when they were down a runway due to construction, I have never experienced a major delay from this airport.
5.  Buffalo-Niagara
Ok, you know I'm a bit of a homer, but honestly, Buffalo-Niagara (BUF) has everything you want from a regional airport.  Choices of amenities, an easy to navigate single concourse layout, plenty of airline and flight options, easy and affordable parking with free shuttles, on-site car rental with late hours, fast and easy security lines.  What more could you ask for?  And again, despite the weather concerns, in over three years and hundreds of departing flights, only once did I ever have a flight out of Buffalo cancel due to the weather in Buffalo. They know how to handle it and they keep a decent volume of traffic moving smoothly even in nasty winter conditions.  They do lose some points for speed of baggage handling.  Despite not being incredibly busy, the wait to pick up checked items can often be far too long for an airport of this size.
Honorable Mentions:
Charleston, WV (CRW) - Otherwise known as Yeager, I've flown some pretty small planes in and out of this airport.  It is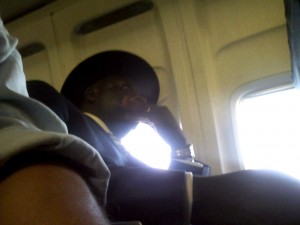 a small airport and not very busy - about nine gates total and they could probably get away with using about 3 of them on an average day.  But they do have a nice pre-security restaurant that serves good food without the expected airport mark-up.
Raleigh-Durham, NC (RDU) - Aside from the smoking fish-bowl (do they still have that?) this is a nice airport with good amenities and an easy, however lengthy, layout.  RDU lost some points for the 2-separate terminal format.  For an airport that size, that is pretty unnecessary.
Burbank, CA (BUR) Burbank-Bob Hope Airport is a really nice, small airport alternative to LAX in the Los Angeles area.  I only got to fly into BUR when I had the opportunity to take Jet Blue - I think if I could have been in BUR more, it probably would have made the top 5.
And now, the worst.  This is based on my over-all experiences at these airports.  I know I've heard some people say they love these airports, but my advice always would be to avoid them if you can.
1.  Chicago, IL - O'Hare
O'Hare (ORD) is less of an airport and more of a traveler's nightmare come true.  One of the busiest airports in the world, it serves as a hub between the east and west coast and was seemingly built in a random configuration to accommodate the growth in traffic over the years.  The design is still not adequate to handle the traffic flow - neither for flights arriving and departing, nor internally as people need to move about  Any sign of inclement weather, at all, brings this traffic flow to a complete halt, negatively impacting flights nationwide.  You would think with their midwest/Great Lakes winters, handling the weather would be second nature, but of all the airports I've ever been to, O'Hare seems to be one of the worst ones when it comes to dealing with their climate.  If you're stuck in the airport and you want to get a meal anytime other than very early mornings or very late at night, again, good luck finding an option.  The amenities are not large enough to handle the number of people in the airport at any given time and most of the eateries are cafeteria style, and over-crowded.  Although, the travel interruptions caused by this horrible place did lend to some interesting travel stories...  something I will cover in future blogs.
2.  Philadelphia, PA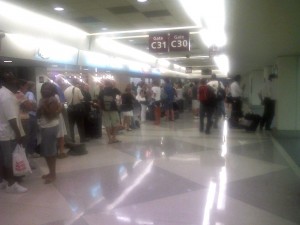 Philadelphia (PHL) became the bane of my traveling days just because of the frequency I had to connect there.  When US Airways would insist I had to connect there from Buffalo I made sure to let the client know I would be late.  Not that I might be late - but I WOULD be late.  I found I had less than a 50% chance of my flight getting out of Philly on time and if the weather looked the least bit uncooperative, reduce that to about a 10% chance.  Have to connect on an express flight?  Then you need to go to a gate area, head outside, and take a nausea inducing shuttle bus ride over to a different terminal.  Flight get in late and your connection time is tight?  You might make the next flight, but don't expect to see your checked bags when you get there.  The airport staff tends to be miserable and unhelpful, the concourses are crowded and dirty - unless you like the refugee camp feel to your travels and don't mind getting to your destination at some other random time, avoid PHL.
3.  Las Vegas, NV
McCarren (LAS) International may have changed since I was last there.  It was undergoing a significant face-lift inside, but the layout would be hard to modify.  A two-terminal, multi-concourse, multi-spoke layout makes navigating the airport an infuriating and time consuming task at times.  The creature comforts, at least when I was there, were seriously lacking - sporting only one bar and mainly fast-food restaurants.  However, they had slot machines and video gambling machines everywhere you looked.  So if you have a gambling addiction, you might not care about the lack of amenities...  or, even making your flight.
4.  Atlanta, GA
The best thing I can say about Atlanta (ATL) is, if it is your final destination and you land to terminal E, you can get in a one-mile walk to go get your rental car.  Hey, you were just sitting on a plane!  The exercise will do you good!  Other than that, this airport is about as bad as most people make it out to be.  They do have some better creature comforts than other hub airports and enough of them to better accommodate the people traffic in the airport, but the flight traffic is intense and if there is even one hiccup, you're stuck.  Possibly for hours.  In the more hot, humid environment of the interior of the south east, electrical storms are more frequent, and they often cause a full ground stop.  Ground crews are cleared, but odds are they're going to leave your checked bags on the tarmac.  Take it from my experience; make sure you don't have anything adversely affected by water in your checked bags.
5. Regan National, Arlington, VA
Regan National, (DCA) services the Washington DC area from Arlington, VA which should really just become part of Washington DC at this point.  There are only two redeeming qualities to this airport.  One - you get a great view of the Capitol while landing at DCA.  Two - they have a decent selection of restaurants, but most of them are pre-security.  Which of course is also one of it's drawbacks.  Each concourse has it's own security point.  So if you're connecting from concourse to concourse you have two options: climb down a stairway outside of a jet way to a shuttle bus that will zip you about 200 feet to the neighboring concourse where you get to climb back up a jet-way, or exit security and pass through security again.  If your connection is tight, the preferable option might be to go directly to ticketing and find a new flight, then try a restaurant, because neither the bus nor the security lines are quick and efficient.  Express flights from Regan all leave from 2 gates.  You go to the gate, get on a bus, and they shuttle you to your plane waiting on the tarmac.  If you like diesel fumes, this is fantastic.  Be sure to dress warm if you have an express flight in the winter, you could be standing on a windy tarmac for a while.
Dishonorable Mentions:
Oakland, CA (OAK) - If a ghetto could be represented by an airport, I think this would be it.  But they do have a great pizzeria post-security, which keeps it off the top 5 list.
Kansas City, MO (MCI) - I am wondering if anything has changed with this airport, but my understanding is it hasn't.   The airport is circular with each concourse being circular off of the main circle.  It kind of looks like a molecule and is about as cramped as being in one.  Each concourse has it's own, cramped, security checkpoint.  You definitely just want to get in and out of this airport faster than a sailor in a brothel.
Detroit, MI (DTW) - The airport itself wasn't horrible, but the personnel almost put it on the list.  After a Northwest gate agent insisted I could not take my laptop bag and my camera bag onto a flight, as other people were bringing on roller boards the size of a wardrobe trunk, I was pretty peeved with them...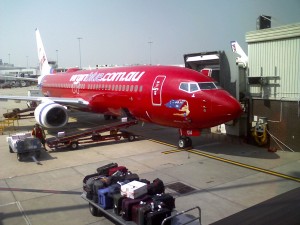 Again, this isn't a complete list.  Odds are, the best and most horrible experiences stuck out in my mind which makes me remember one place as being great, another as being much less than great.  Sydney and Melbourne airports were very nice, but since I only flew through them each on one trip, I really don't remember much about them, except the Virgin Airlines terminal at Sydney is very RED.  Anchorage has a nice airport - Kodiak Island's airport is perhaps the smallest one I've ever been to.  New Bern, NC is a close 2nd with three gates that are basically commercial glass store-front type doors out to the tarmac.  The lovely women that staff the airport will check you in, take your checked bags, then you'll see those same gate agents taxiing in the plane and loading all the checked bags on it too.
They need a raise!
However many bad experiences I ever had while traveling, the good ones certainly out numbered them.  I miss those days of travel.  Know anyone that needs work done out of state?  Give me a call!  I have my laptop, passport and camera, and can be at Buffalo-International within the hour!